The current pandemic has thrown drastic obstacles in the way for UK businesses. Due to the shock to the economy businesses we're forced to temporarily close. This has resulted in a growing number of companies starting to cut thousands of jobs and trade unions and business groups have warned that unemployment is going to surge as the government winds down the furlough scheme (1).
Due to the harsh nature this entails for those seeking a job a new, Business Confidence Report by Nexus Global reveals the industries that are most confident about taking on new recruits. Science and pharmaceuticals is the most confident industry about hiring new employees in the current turbulent climate. However leisure and sport is the least confident about hiring new employees, scoring just 1 out of 10 in the survey.
Nexus Global surveyed senior managers in businesses across the UK to determine how confident they feel at present regarding the current economic climate. To determine the figures, respondents were asked (on a scale of 1-10) how confident they feel at present regarding the different aspects such as how confident do they feel about the overall health of their business, investing, business growth, launching new products and services to name a few. In regards to how confident businesses in different sectors feel about hiring new employees, see below: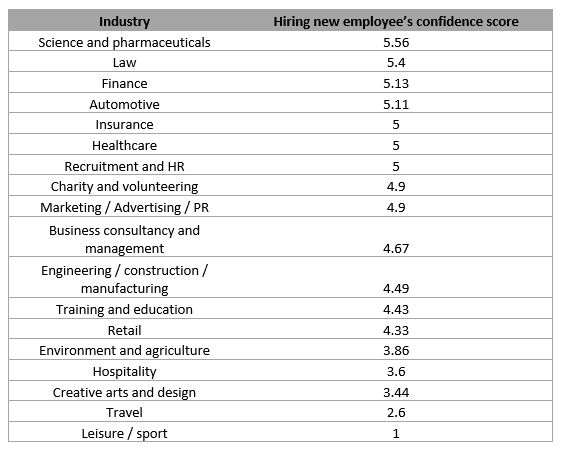 To read the full report, visit https://www.nexus-global.net/business-confidence-report/
C-Suite coach Peter Ryding, who coaches both CEOs and HR Directors, believes that whatever the industry, now is the time for business leaders to take measured action, based on a strategic plan, rather than making kneejerk reactions or being overconfident, particularly when it comes to hiring and firing and making redundancies. Peter says:
"We are in a VUCA climate and don't know what is around the corner, but there will be winners and losers in every industry – there always are in times of crisis. The C-Suite should adopt calm, decisive leadership at this time, operating strategically to a plan which covers short, medium and long term goals and, bearing in mind that people are an organisation's greatest asset, senior directors should liaise more closely with HR than ever before, ensuring that any redundancies don't accidentally reduce the key skills the company will need to go forward and bounce back from the impact of COVID-19.
Likewise, when hiring, rather than just looking to 'fill a post', recruiters should look for employees who are a good cultural fit and who can help achieve your long term objectives. You can always develop skills in the right people, whereas it is harder to fire the wrong ones.
"Ultimately it's all about forming and adopting a long term plan for your business and ensuring that your recruitment and/or potential redundancies fall in line with this. Clear, strategic thinking has never been so important."