Cardiff City Hall was abuzz on September 18, 2023, as attendees gathered for the debut of the 'Mastering Diversity' conference. This landmark event has been widely acclaimed, solidifying its place in Wales's history as a crucial platform for championing diversity, equality, and inclusion.
Brainchild of Bernie Davies, a multi award-winning entrepreneur, author, and diversity advocate, the conference drew a varied mix of participants. Leaders from both the public and business realms convened to share insights and deliberate on the fundamental aspects of diversity within Welsh society.
The conference was inaugurated with a stirring speech by the First Minister of Wales, Rt Hon Mark Drakeford MS. Following him were other distinguished voices including Michelle Morris, Gus Williams, and Professor Meena Upadhyaya OBE from Cardiff University. Notably, a special video message from Jane Hutt MS, due to her unanticipated absence, reaffirmed the Welsh Government's dedication to their Anti-Racism Action Plan and other diversity initiatives.
An array of afternoon presentations commenced with Vaughan Gething MS's support message, succeeded by insights from Duchess Nivin of Lamberton, Margaret Ali, Dee Llewellyn, and Rob Edwards, among others.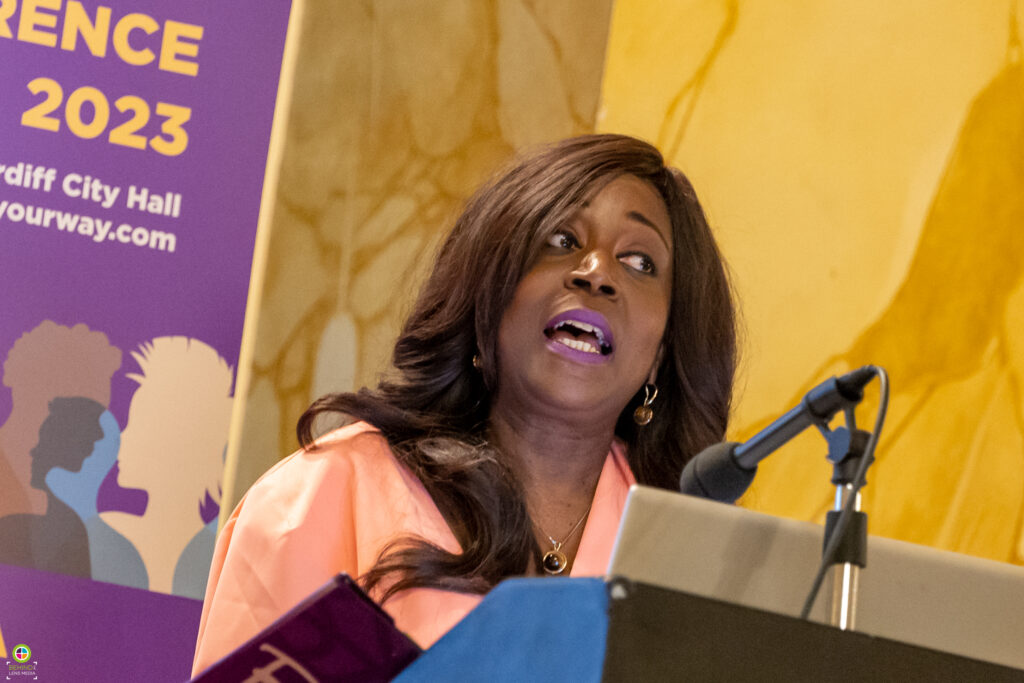 Inclusion means different things to different groups – for example, race, disability, LGBTQ, neurodiversity and so on – Bernie's firm philosophy is that EVERY group should feel and be included, both in society and in the workplace.  Her take on it, the title of her latest book release, is "
We go together, or not at all!
"  It's a mantra that was welcomed by the audience.
Attendees were treated to various sessions and seminars, diving deep into topics like cultural diversity, neurodiversity, gender equality, and more. This inclusive environment fostered by the 'Mastering Diversity' conference was further enriched with the presence of exhibitors like Adoption UK, Women's Equality Network, Microsoft and Princes Trust.
Behind the successful event stood the solid support of sponsors such as NatWest, Bevan Buckland LLP, Transport for Wales, S4C and BBC, to name a few. They hosted thematic zones, amplifying discussions from business diversity benefits to neurodiverse individuals' challenges.
The resounding success of this premiere event has fuelled Bernie Davies's ambition to make it an annual affair, continuously promoting progress in diversity within Wales. The Welsh Government, via its official Twitter, lauded the event, quoting they were, "Proud to witness history."
Already a leading figure in Wales' business world, Bernie Davies is well known for her impact on multiple sectors, from universities to the Welsh Government Accelerator programme, and Bernie is an in-demand keynote speaker at national and global events.  However, the new diversity conference is something she takes particular pride in – and looks forward to hosting in future years.
Expressing her gratitude and excitement, Bernie Davies remarked:
"This inaugural Mastering Diversity conference was a testament to Wales's drive for significant dialogues and decisive actions in the realm of diversity. The unity showcased by everyone involved is overwhelming. My profound appreciation to our speakers, sponsors, exhibitors, and participants for making this a standout event. This conference has paved the way, and I am hopeful for what lies ahead. Together, we are embarking on crafting a Wales that champions diversity in every facet."